Thunderstorms are an attempt to rapidly stabilize an unstable atmosphere. Unfortunately the process can turn destructive, depending on how strong the thunderstorm becomes. Thunderstorms are capable of producing:
Strong Winds ( Winds over 58 mph are considered severe)
Hail (Hail larger than 3/4 of an inch is considered severe)
Tornadoes (Any tornado is considered severe, obviously)
Heavy Flooding Rains
Thunderstorms come in all shapes and sizes
Single-Cell. These types of thunderstorms are normally weak and shortlived. They very rarely produce brief severe weather
Multicell. Here we have a cluster of thunderstorms where numerous combined single thunderstorms form and die. A cluster of thunderstorms can last for several hours and produce isolated severe weather.
Supercell. This is a very complex thunderstorm that produces widespread severe weather. These types of thunderstorms are very rare but cause the most damage of any thunderstorm category.
This is a national picture of the average thunderstorm frequency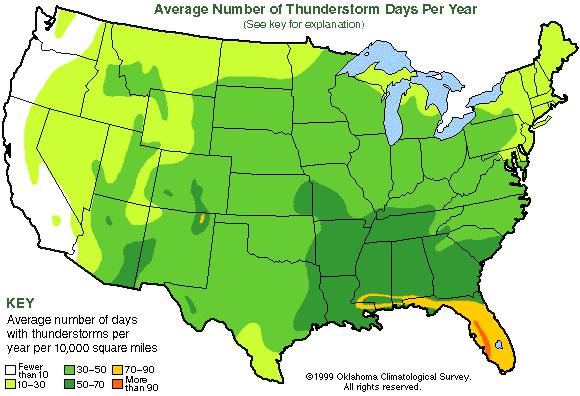 This is a national picture of the average tornado frequency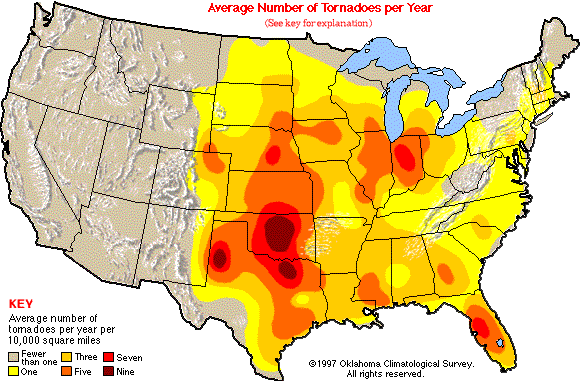 Although Connecticut is not well known for its severe thunderstorms, nevertheless the state does receive its fair share of violent convective storms. It is important to keep up to date with the latest weather happenings, otherwise you'll never know when a severe storm could strike.
The atmospheric conditions that are needed in order to create severe thunderstorms are very complex. Many factors have to come together at one time over a specific location for intense storms to form.
Click here
for a brief explanation of the processes necessary for severe thunderstorms.
There are many good websites for keeping up to date with the latest severe weather. One of my favorite is the
Storm Prediction Center's website
, which predicts severe weather happenings around the nation.
This website created and maintained by (soon to be Meteorologist) Michael Erickson, KB1IJV.